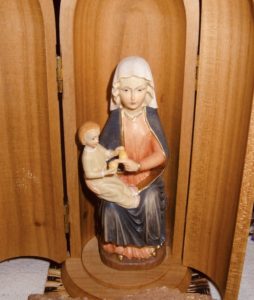 When I graduated from Neuland Schule our class decided to forfeit a trip to Italy or to some other fancy vacation spot and instead chose to show our gratitude for passing our traumatizing matura exams by doing a pilgrimage to Mariazell, the almost 1,000 year old Marian shrine in Austria.
In 1157 Monk Magnus brought the small statue carved from lime-tree wood. She later came to this valley of the river Salza amid the northern Styrian Alps. He named her Maria in the cell which later became the name for settlement of Mariazell.
Joseph Haydn wrote a piece named the Mariazeller Mass. When the chapel that had grown into a gothic church was completely destroyed by the All Souls fire in 1827, the Magna Mater Austria herself, as she became known, escaped. She has survived all fires and wars so far.
In 1907 the rebuilt shrine was declared a Basilica Minor. In 1945 the red army vandalized the shrine and forced the defeated and demoralized, dirt poor inhabitants of the tiny town to house 5,000 men.
The memory of our Mariazell high school pilgrimage came back to me as I watched the red army on the March again terrorizing Ukrainians.
Since 1990, thanksgiving freedom pilgrimages from the former eastern block have annually made their way to Mariazell. As a child I was told that it was prayers to Magna Mater Mary that saved Austria from becoming absorbed into the former Soviet Union, and again that it was thanks to many fervent rosaries that Austria was eventually freed from foreign occupation altogether, and so transformed imperial nationalism into a neutral republic.
While political neutrality is only as effective as others respect for it, the attempt to renounce war is a worthy experiment that saved Switzerland from two world wars and might save Austria and Ukraine from the threat of a third one.
Neutrality is not indifference or disinterest, nor does it deny the importance of protecting political borders or personal boundaries. Neutrality is an exercise in empathy and detachment, a way of respecting self and others enough to help build bridges between warring factions.
It takes some degree of objectivity to make scientific discoveries. Perhaps rededicating themselves to political neutrality might help Ukrainians find a way out of the morass of violence and war Putin is inflicting on them?
My mother, Thea-Dora Prohaska-Braun was praying the rosary every day for us, her family, and throughout her final agony. As a little girl I learned to pray the beads on road trips with my foster mother Dr. Maria Scrivanich. May we all learn to invoke the ancient Magna Mater and entrust us and our world to her protection.