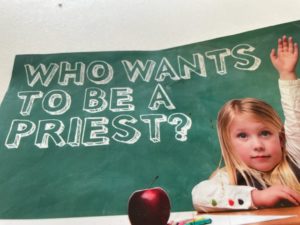 It is the first Advent Sunday and this picture popped up from my photo album. I sent it on to a few folks and then felt moved to do a bit more and make this the first post this new liturgical year.
To this day, especially in catholic schools, girls are still taught that they are not called to receive all seven sacraments. Of course we know that's a lie, always has been a lie, but especially now it is time to tell the truth.
There is a movement growing globally to do the supposedly impossible. I don't know about you, but to my God nothing is impossible! As Mother Theresa repeatedly told us: we are gods feet, hands, and heart. We are the voice to let girls we know know that they can be whatever God calls them to be.
So take a few seconds, look at the little girl in the picture, and promise her to get the word out. Just send her on to any girl you know. We don't need to be successful, only faithful; to do our best and God will do the rest.