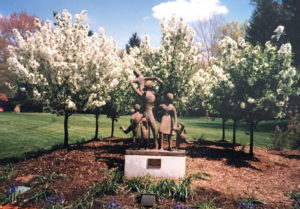 Today when many remember the liberation of prisoners at Auschwitz, I think of Edith Stein and her sister Rose who were murdered there.
Years ago, while serving as First Lady of Ohio I was honored to receive the gift of a sculpture for the governors residence. The piece was done by a jewish artist who lost his whole family in the holocaust. He alone survived and made it to Ohio, where he continued to honor those who died with his work.
When we installed the piece in the residence garden we dedicated it to the children who were murdered in the holocaust and surrounded the sculpture with a minion of apple trees. On one side of the sculpture we placed a plaque that proclaimed the promise God made to Abraham, that he would be the father of children as numerous as the stars in the sky. On the other side we inscribed a teaching by Edith Stein that read: "we have to overcome evil in such a way as to benefit the evildoer."
At this time, with antisemitism re-emerging all over Europe and the United States, I am reflecting on how to best honor her advice. Extremists on both the right and left are again using Jews as scapegoats and while the Roman Catholic Church has officially abandoned blaming Jews for the crucifixion of Jesus, plenty of so-called "good Christians" and others are back at this oldest of old blame games. To start let us personally commit to resist antisemitism where or whenever we find it and to work politically to stop all discriminations based on religion, gender, race, sexual preference, place of origin and more.
Overcoming evil is a continuing challenge. Overcoming it in such a way as to benefit the evildoer will take the patience if Job and the wisdom of Sophia. And yet, with faith the size of just a mustard seed and hope in our hearts, we shall overcome and find new ways to continue growing the beloved community we are called to envision.